Interested in getting Dish Network service for your house? It's easy with AnyWhere Wireless. We can help you decide which programming package is best for your family, install your equipment and get you busy watching the great programming Dish Network has to offer!





SPECIALS:
$100 Back from Dish Network! New and eligible customers who subscribe to AT120, Dish Latino Max, Dish HD Silver or higher will receive $100 back in savings! This mail-in-rebate is available from Dish Network and upon receipt, Dish Network will provide you with $10 monthly credits for 10 consecutive months. Effectively making AT120 $29.99 a month!

STARZ FOR FREE! Subscribe to any qualifying Dish Network programming package and receive STARZ movie channels free for 3 months.
Pay a $49.99 Activation Fee and get a $49.99 credit on your first bill, making your activation free.
NO equipment to buy.
Free DVR equipment options
Free Standard Professional Installation on up to 4 TVs.

Lifetime Equipment Warranty include

d
CHOOSE YOUR RECEIVER

Whether you want to connect 1, 2, 3 or 4 TVs or want the latest features in a Digital Video Recorder or HDTV receiver, we have it all for you! And it's included in your one-time Activation Fee!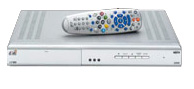 DVR: DISH Player-DVRs combine the power of Digital Video Recording (DVR) technology with feature-rich satellite receivers to allow you to watch TV the way you want and when you want. DISH Player-DVR receivers feature DISH Video-On-Demand Service, an advanced digital television recording and playback technology that lets you control how you watch television. DISH Video-On-Demand Service allows you to control the way you watch TV with these revolutionary features:
Pause live TV when the phone rings
Skip through commercials on recorded programs
Seamlessly record up to 100 hours of programming, from sitcoms to feature-length
films and even live sporting events
On-screen DVR command menus are seamlessly integrated with DISH Network's 9-day electronic program guide to make selecting and recording standard and high definition programming quick and easy.
HD: High Definition television, or HDTV, gives viewers crystal-clear pictures integrated with Dolby Digital 5.1 channel surround sound - the entertainment experience that has been imagined but was never possible on standard analog televisions. HDTV reproduces theater-quality sights and sounds by digitizing TV programming, allowing it to be transmitted and received the same way that a DVD player can reproduce movies with big-screen quality effects.
With DISH Network, the leader in HD satellite TV, it's easier than ever to upgrade to HDTV. All you need to receive life-like HD programming from DISH Network is:
An antenna pointed at DISH Network's HD satellite
An HD satellite receiver
An HD compatible television
STANDARD: DISH Network receivers are simply the best around. Want a nice slim receiver to fit right into your equipment rack? Dish Network offers standard receivers in dual tuner or single tuner setup. Dual tuners means you can hook one receiver up to two different tvs and get two different channels at the same time. This can also be used for picture in picture type tvs. All standard receivers have Dish Network's user friendly menu guides and control.
CHOOSE YOUR PROGRAMMING: Click here to visit our programming package page. Here you can decide the level of Dish Network programming you want to have. Dish Network offers the most HD programming available anywhere. AnyWhere Wireless LLC specializes in HDTV setup. We can help you get on the right track.

Dish Network also offers the most international programming channels. AnyWhere Wireless LLC is accustomed to working with those customers who have specialized needs in international programming. We can help you get the channels you are looking for.
INSTALLATION: Once you receive your Dish Network equipment, you'll need to have it installed. Have no fear, AnyWhere Wireless LLC will be there every step of the way to make sure the system is installed by qualified installers who are insured and warranty their work. You can even use AnyWhere Wireless to install systems you may have gotten from other sources. We are here to help.